I just returned from a very intense weekend with my daughter Olive, after she and her dance crew K.O.D. won their category at the UDO World Championship in Blackpool. There were many valuable life Lessons from the journey with K.O.D. which was an entirely new experience for me as a father. From the moment Olive joined the K.O.D. crew, I could perceive and sense the life lessons she would gain by being a part of it. This past weekend enhanced the impact of those lessons. I decided to put this into writing, both to keep the memory of this incredible experience and also because I believe that we, as adults, can also learn a lot from it.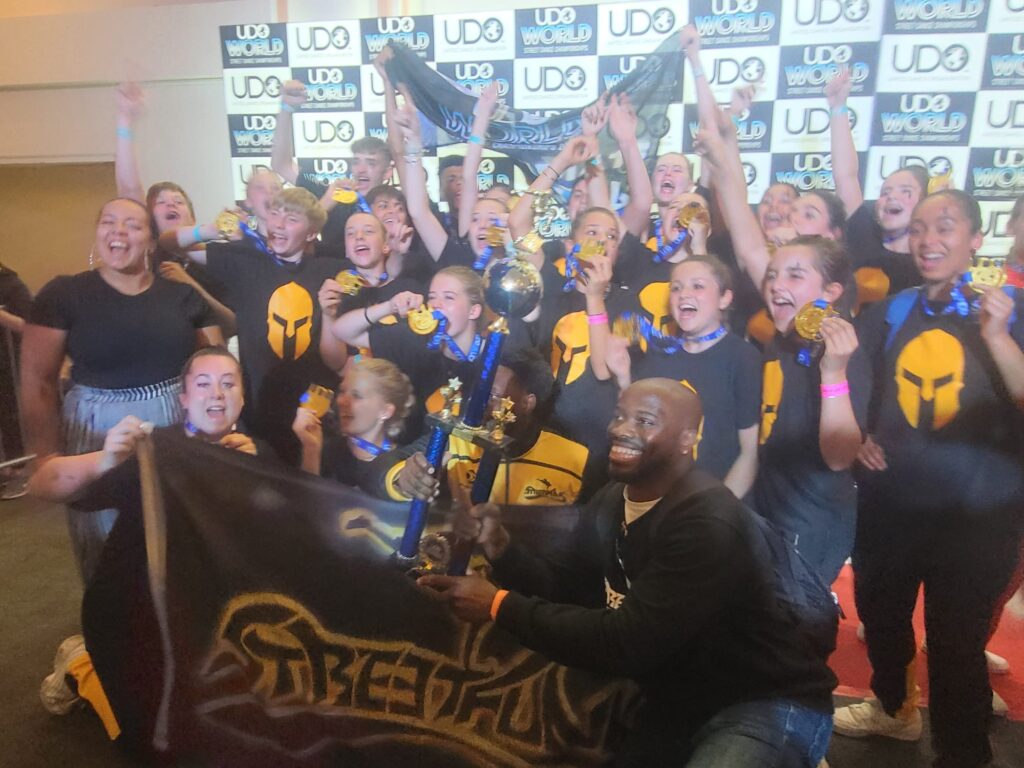 So here are the life lessons I have learned:
Life lesson 1 – forget about being too young or too old
K.O.D. consists of children under 18 years old from the South Coast of England. When Olive auditioned to join the crew, the experience was overwhelming. She just turned 10 at the time of the audition and when she entered the room many kids appeared to be double her size. She had never faced such an intense physical experience before but she managed to pull through. While she wasn't sure if she would make it, she felt proud for taking the opportunity to attend the audition. And then she made it – she was in.
The same scenario unfolded in the competition, where categories were determined by age: under 12, under 14, under 16, and under 18. K.O.D. was competing in the under 18 category, and Olive could have potentially questioned whether she was too young. But she chose to concentrate on what truly mattered: delivering her best performance. She might have been the smallest individual within her age group, but she emerged as a confident and spirited integral part of the group. The issue of age simply didn't play a role in the story.
Life lesson 2 – Learn to commit. It makes shit happen!
When Olive joined the crew, we knew our weekends would vanish into long rehearsals and frequent competitions. The world competition took it to another level. For two weeks, they practiced daily for 4 hours, with Olive reviewing rehearsal videos and continuing to prepare on her own and with her friend Florrie in the afternoons. Even Sunday, which was meant to be off, turned into a rehearsal. After an 8-hour drive, we arrived at Blackpool at 7 pm and dove straight into a beachfront rehearsal by the Blackpool tower. It wasn't overwork; it was dedication.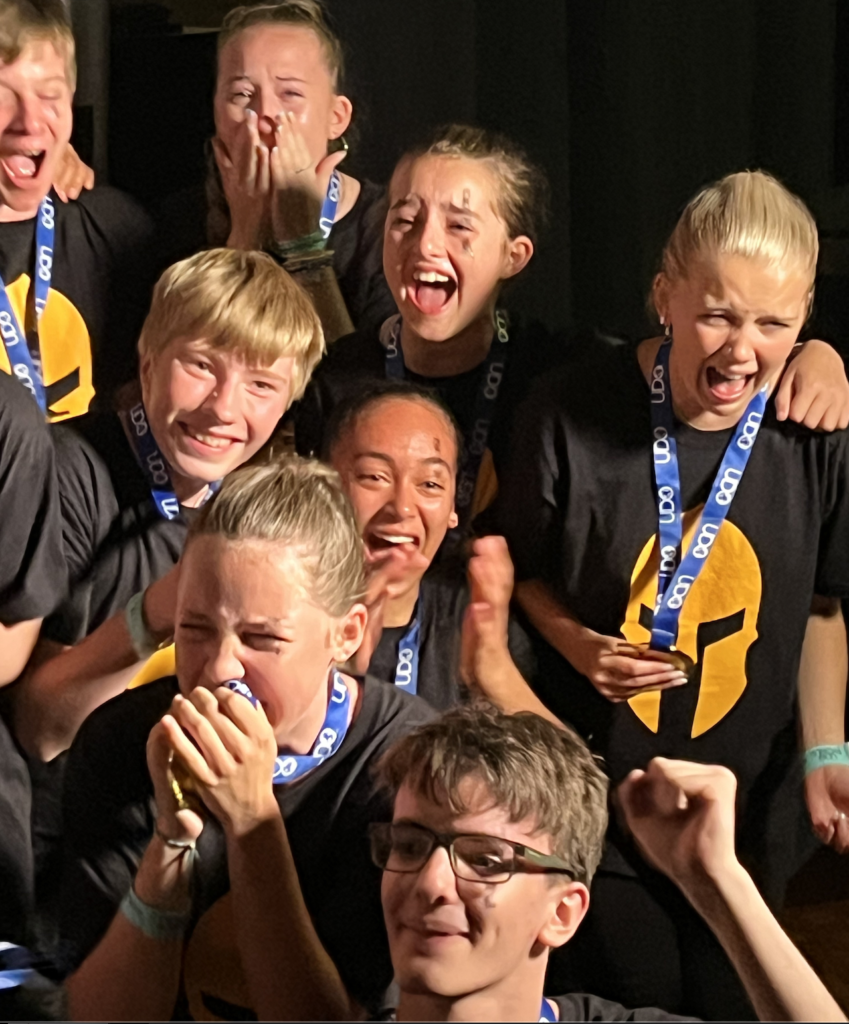 Life lesson 3 – If you truly want something don't give up
A ton of effort went into this, and we were confident they'd dominate the competition. They faced off against 11 other crews on Friday, and we assumed they'd easily make the top 3, securing a spot in Sunday's final. When we heard they hadn't qualified, it hit us hard.
Despite the intense disappointment, the team reacted quickly, immersing themselves in more practice during the evening, preparing for the next day's showdown against the non-finalist teams. Then came another morning rehearsal. The goal was evident: secure a spot in the finals. We parents were informed about an additional rehearsal from 3 pm to 6 pm following their semifinal performance. They kindly requested that we not attend. They practiced outdoors, either by the church or right on the beach in front of the Blackpool Tower. When I picked up Olive, they were still pushing hard. Tired and somewhat frustrated about not immediately making it to the finals, and the extra effort they required. However, one thing was clear: they weren't giving up. They persevered past 6 pm, even as the rain began. It was all about maintaining determination, making an important breakthrough, regardless of the circumstances.
Life lesson 4 – be on purpose
The person who created the space for all this to happen is JP Omari. I love watching this man in action because it shows the beauty and power of being on purpose. Being on purpose is one of the core themes, if not the most important one, that we work on in our training programs. Many men don't spend the time to find their purpose which often ends up with a sense of feeling lost and unfulfilled. JP shows what a man looks like when being on purpose. It's not an easy ride being on purpose but it makes everything bearable. This weekend was a crazy rollercoaster which one can handle with love and kindness only if one is plugged into his purpose. And this also goes to Monique and Munya who are always there with JP, determined, focused and bringing the best out of the children.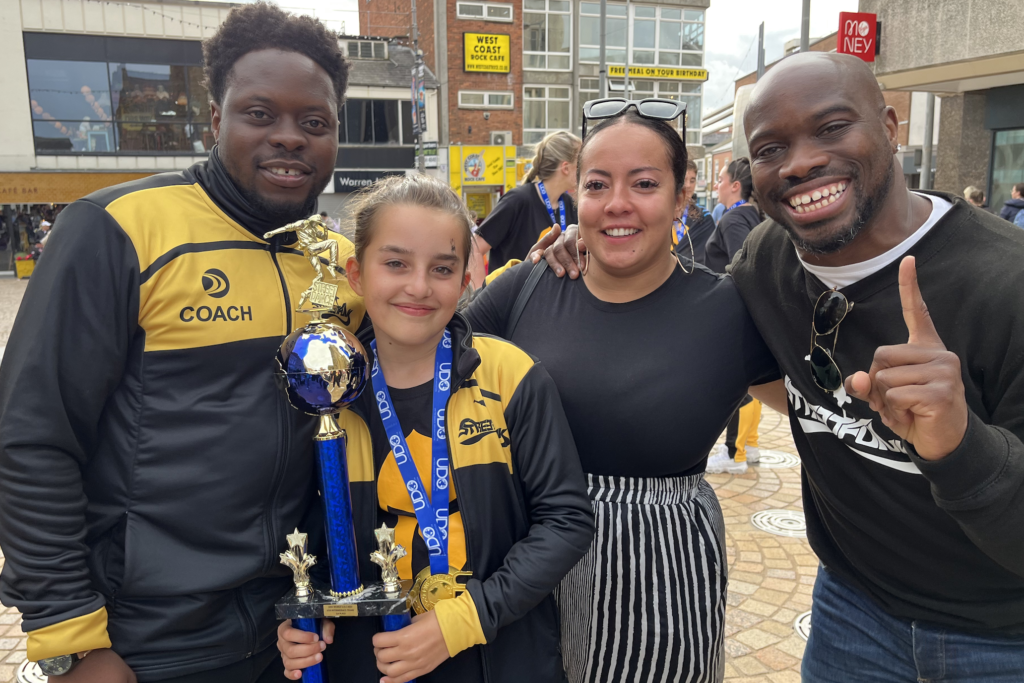 Life lesson 5 – Confidence is an outcome. Not prerequisite.
When Olive joined the crew she didn't have a lot of confidence in herself. The first few times she went to rehearsals she needed us to be with her. I could see and feel her nerves, but despite the challenge she was determined to continue to show up. It's incredible to observe how much her confidence grew over this period of time just by sticking with it. The photo below shows so well the whole journey of overcoming fears, putting a lot of effort and then enjoying the fruit of the hard work.
Life lesson 6 – Be part of a community
The kids truly deserve all the praise for putting in so much hard work, dedication, and time into this (as well as crazy amounts of sweat!). And so do the coaches and the Streetfunk team for putting in a ton of effort in different ways. They really believe in the kids, always pushing them to do their best. They hold them to high standards, which really helps the kids in a big way. No doubt, all these efforts are going to pay off and lead to great things for them down the road.
And then there are the also families that consistently provide unwavering support. This includes considerable amounts of energy, time, and financial resources. Being part of such a supportive community of parents, siblings, and grandparents was a beautiful expereince. This shared experience felt larger than any individual. It created a sense of community united by a positive and impactful force. In a world that currently feels quite chaotic and mad this seems particularly significant.
This blog is a reminder to all of us to live a more courageous and fulfilling life. As I often share, finding a purpose is key and JP's life project is a great example of that. If you live in the south coast of England and you want your children to learn similar life lessons send them over to JP and his team at Streetfunk. And if you are a man ready to find and commit to your purpose join our 90-day training program. It will be one of the most important journeys of your life.